Adding music to your ceremony is very popular and these talented musicians are a popular choice here at The Old Marylebone Town Hall. We caught up with, Anna, from Blue Topaz Music to hear how they can make your wedding day sparkle with strings.
Tell us about your career journey and why/how you became a musician and became Blue Topaz Stings.
Blue Topaz Strings is the creation of Anna and Libby Croad, sisters and professional violinists. Both sisters always knew they would work together in some way and that music would be heavily involved. Anna knew she would be a professional violinist at the age of 9 and Libby began composing music at the tender age of 7!
Blue Topaz was born from their passion for doing things well, namely playing excellent music combined with beautiful presentation and good organisation for special events.
"We had noticed that whilst there were other groups offering live strings, we hadn't yet seen anyone who was taking care of all the key aspects that we believe make a fantastic musical, visual and straight forward booking experience. So we decided to create Blue Topaz Music"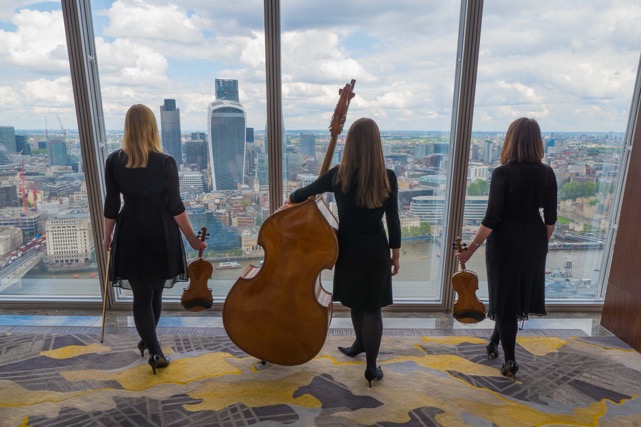 Tell us about the music style of your group and the instruments you use.
Exclusive to Blue Topaz Strings are our Trio and Quintet of violins and double bass. These unique groups are perfect for clients who would like a wide range of musical styles at their special event.
The inclusion of the double bass brings a fantastic energy to the jazz and pop covers whilst providing a rich generous tone for the classical pieces.
We arrange all of the music ourselves so if your favourite piece isn't on our list we can arrange it especially for your day!
We also offer a Traditional String Quartet for those clients who prefer a more classical approach, a violin and cello duo for smaller celebrations and a range of solo instruments including violin, cello and harp.
For those clients thinking big we can provide a whole String Orchestra.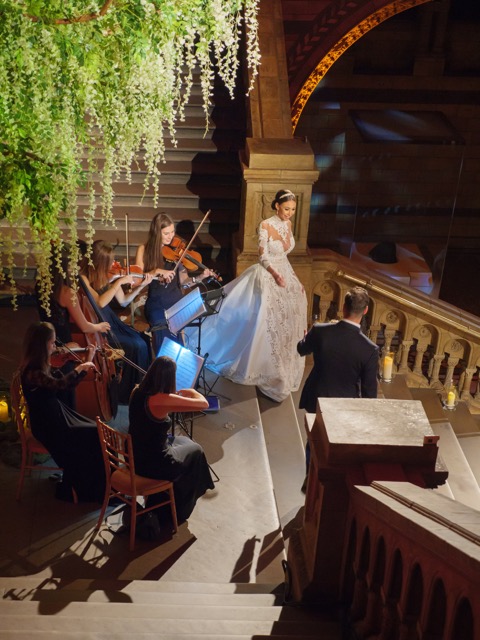 As a musician, what is your favourite instrumental piece to play at a wedding?
Ah it's tough to chose a favourite piece... and the thing about music is that different pieces can feel more suitable for different weddings and people…that said, songs that we never tire of playing would include At Last which was made famous by Etta James, Songbird and Summer of 69!
NB Libby likes At Last so much that she chose it for our Trio to play her down the aisle at her own wedding last year!
How many weddings have you played at The Old Marylebone Town Hall?
I think we are approaching 20 weddings just at The Old Marylebone Town Hall since March of this year.
How far in advance do couples need to book with you?
There are no rules of when to book however if you are marrying on a Saturday it is always a good idea to call us sooner so we can guarantee availability for you. Equally, feel free to try us last minute.. we will always do our best to make something work if possible.
What information do you need from couples prior to their wedding day?
The key information we need to get you booked in is date, time and whether just ceremony or reception too* (*yes - we can also follow you to your reception and play for drinks/dinner!) We'll do a contract so everyone knows what to expect and ask for a deposit, with the balance payable a few weeks before the date.
Once the admin is sorted we can talk music! If the wedding date is a way off this can happen in a relaxed way in the preceding months. You can choose from our repertoire list or ask us to arrange something special for the big day. We can help and guide you with these choices as you wish.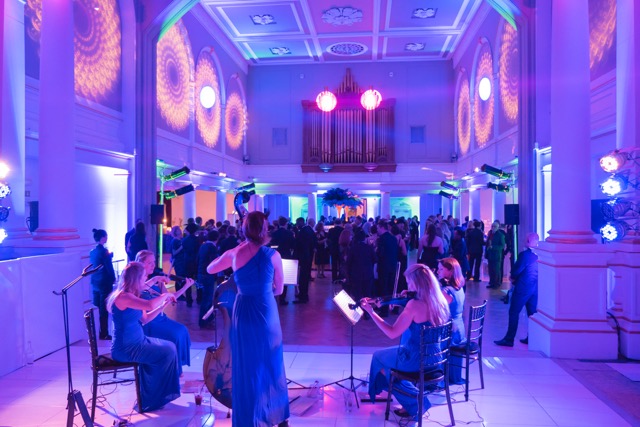 How does your music make a wedding special?
There is no substitute for beautiful live music at a wedding. The absolute magic it brings, the spine tingling atmosphere created, is second to none.
The Blue Topaz musicians are carefully selected by us for their excellent musical ability, their understanding of weddings and events, and their smart personal presentation.
Our players have performed, toured and recorded with artists including Adele, Beyonce, Emeli Sande, Take That, Mark Ronson, Lana del Rey, Stormzy, Rita Ora and Rod Stewart.
As professionally trained musicians with over 12 years experience in providing a first rate musical experience for weddings and events, we know how to make your wedding sparkle with strings.
Contact details:
Tel: 07970 837338
Email: info@bluetopazmusic.com
Website: bluetopazmusic.com
Facebook: /bluetopazmusic
Twitter: @bluetopazmusic
Instagram: @bluetopazmusic