In this blog, you will meet Karol & Jess, two of our registrars who were married at The Old Marylebone Town Hall and now work with us to deliver the very same experience for other couples. Pretty amazing! They have kindly shared their fondest memories and journies into registration.  
1.      You were both married at OMTH before the refurbishment; do you remember which room you were married in? What room in the Town Hall is it now?
K: Habib and I were married in the Westminster Room on 28 August 1993. It was quite a large wedding. I think the desk is still the same one - I remember sitting at it to sign the register with our parents and feeling so grown up.
J: Les and I got married 22 years ago in what I remember as 'A Big Wood panelled Room'. This is now The Westminster Room. As Westminster residents wanting a register office wedding, we felt very cool and lucky that the iconic Town Hall was our venue. We had 60 guests, so that was the room it had to be.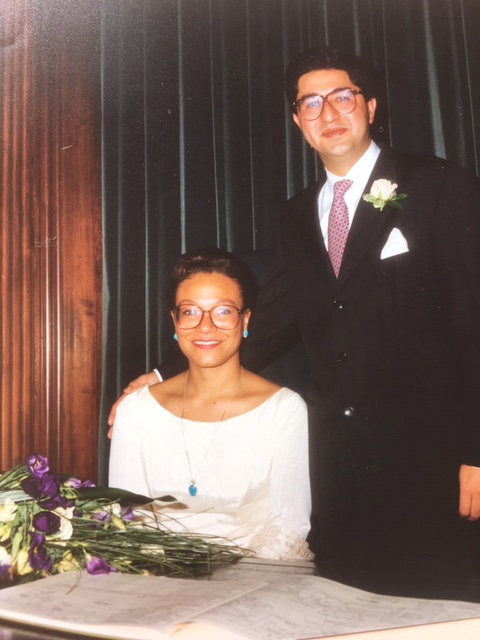 2.        What is your fondest memory of the ceremony/town hall experience?
K: I remember being extremely nervous about walking into the marriage room with so many people. Just as I was about to walk in, a friend (who is notoriously late for everything and who had just flown in from India to surprise us) ran in front of me and told me to wait so that he could go in first. That helped with my nervousness. 
After the ceremony as we stood on the steps having our photos cars whizzed by honking their horns. There were so many guests and I felt sorry for our photographer as it was like herding cats! Getting married in central London near our home (at the time we lived in Maida Vale) was important to us.
For years after our wedding we used to drive along the Marylebone Road past OMTH and remind our children that OMTH was where we got married until they got old enough to cover their ears and mimic us before we had a chance to say the words.
J: My fondest memory of the wedding ceremony was hanging out on the steps afterwards re-united with lots of old friends we had not seen in ages. At one point, a passing motorcycle courier saw our big crowd, decided to stop and watch, even asked a friend if I was someone famous!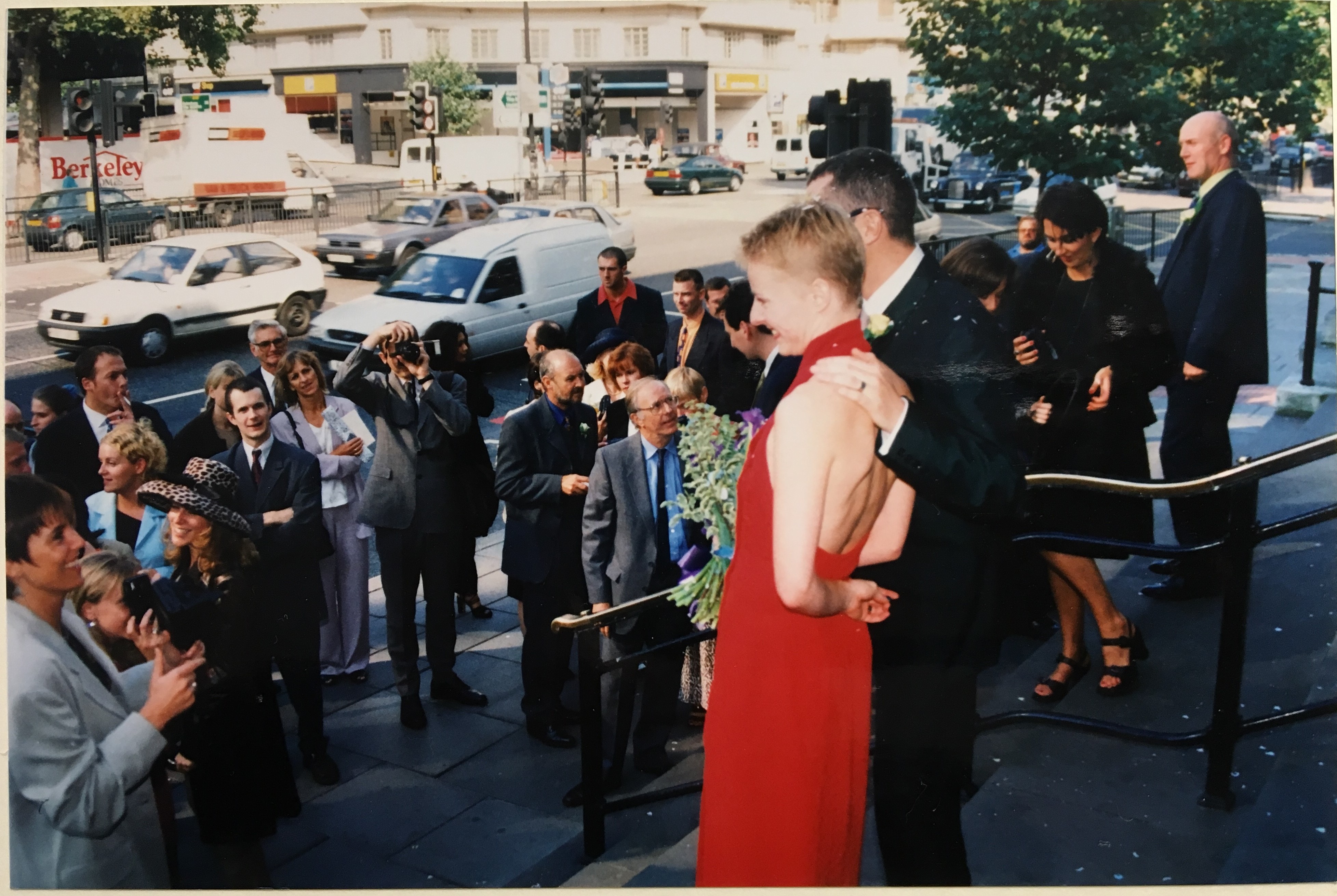 3.      What made you want to become a Registrar?
K: I went to a wedding in Kew Gardens a couple of years ago. As I watched the ceremony I thought, what a lovely thing to do. Shortly afterwards I saw the advert for part time work and applied. It was the icing on the cake to land a job at the place I got married myself! It still feels surreal.
J: My husband planted the seed of the idea to become a registrar. We had attended a humanist memorial for a friend. He commented afterwards how kind and empathetic he'd been with my friends family but he also saw the confident public performance of the celebrant, recognising I would be great in both roles. The role of a registrar is both.
4.      Tell us your favourite wedding memory since being in your role?
K: Whilst I do not have one particular memory, there is something special about sharing the moment with a couple in front of their guests when they make their declarations. I feel privileged to be part of that new phase of their lives.
J: My favourite wedding memory is of the achingly cool 'Heavy Rocker' couple who got married in the beautiful Fitzrovia Chapel. Their ceremony was at heart very traditional, down to the bride's white dress and veil (tattoos peeping through) and the grooms morning suit. Everyone had taken their positions, eagerly awaiting the bride's entrance with her Mum, when ACDC's 'Thunder' started. Undoubtedly, the most unexpected, yet resounding, uplifting entrance music I've heard.
5.       What were you doing before becoming a registrar?
K: I was doing a variety of voluntary charitable roles and I continue to be a lay magistrate.
J: Before making the leap into Registration, I was a dance teacher.
6.       Tell us your favourite part of the job
K: I love seeing the faces of the couples as they realise that they are now married - the relief that the formalities are finally over and they have 'done it'. 
I work with such a supportive team - there is always someone to answer a question, no matter how silly it seems. I go to work with a smile on my face and end the day with a smile. Even when it is an incredibly busy one, we all pull together and share a laugh during the course of the day so that each couple feels that theirs is the only wedding that day. What is there not to like?!
 
J: This is such a varied job, and one that requires many hats; you go from conducting a ceremony to comforting the bereaved. The thing I absolutely love most about this job is that I have the opportunity to show my caring side on a daily basis.
7.       Do you have a favourite venue outside of OMTH?
K: So far, I like the Café Royal as it is has stunning ceremony rooms. I have been a sessional for over a year and I still have a huge number of Westminster venues to visit.
J: Yes, The Fitzrovia Chapel, a small perfectly formed little venue, with very helpful staff, great acoustics and the most exquisite gold domed ceiling. I never fail to be moved when arriving there for a wedding.