How long have you been a registrar and now Superintendent Registrar and how many weddings & civil ceremonies have you overseen?
I became a deputy registrar in October 1987 and have been a Superintendent Registrar since 1991. In that time I must have either registered or conducted over 5000 weddings. I wish I had kept a record as I really don't have an idea of the exact figure so actually it's a total guess..
What inspired you to want to become a Registrar?
To be  honest it really wasn't a case of being inspired as I didn't really know what the job entailed. I had been 'temping' for a few months since graduating from University as I had no idea of what I wanted to do for a living. One Friday the temping job came to an end so I went along to the agency to find out if there were any other jobs going and the recruitment consultant asked me if I could spell and what was my handwriting was like?! As I reckoned both were okay – though some would say my handwriting is debatable - I went along to Acton Town Hall for an interview with the Superintendent Registrar for Ealing Council on the Monday. I must have passed the handwriting test as I started work as a deputy registrar covering for a registrar on maternity leave on the Wednesday. I then got a permanent job as a registrar for the London Borough of Brent in Willesden in June the following year and eventually came to Westminster on 18th  March 1991. And the rest, as they say, is history.
Tell us about the most interesting/memorable wedding that you have overseen?
It is really hard to pin it down to just one wedding as there have been so many! I am so lucky to work in Westminster as we see so many fabulous and varied weddings both at the Old Marylebone Town Hall and in the other 140 or so venues that are licensed for weddings. I get such a thrill walking through the doors of amazing places such as the Ritz, The Dorchester and Claridge's – to name just a few. However, one of the most memorable ceremonies I have conducted was Sir Paul McCartney's wedding to Nancy Shevell at the Old Marylebone Town Hall in October 2011. It was incredible to think that he married her in the same venue he had married his first wife Linda back in 1969 – in fact, we felt really chuffed that he had chosen our building for a second time. It was also great to meet Ringo Starr and Barbara Bach who were amongst the guests at the wedding – I got chatting to them and took them on a little tour of the rooms before the wedding started – as they had also got married in the Town Hall in 1981.
Amongst other great days was the first day of civil partnerships in December 2005 – when we registered 20 couples – the most in the country on that day. My first couple at 8am that morning were Roger and Percy and they were just fabulous – they had been together for over 30 years and it was so momentous and such an honour to be able to legalise their partnership. Also that day I went out to The Grosvenor House Hotel to perform the civil partnership of Gary and Phil and it was just incredible. They had 10 bridesmaids all dressed in white – including Katie Price, Melinda Messenger and Barbara Windsor and they were serenaded down the white carpeted aisle by Peter Andre. I stood under a floral arch whilst performing the ceremony and 'snow' fell from the ceiling the moment I declared them legal civil partners.  It was hilarious and great fun.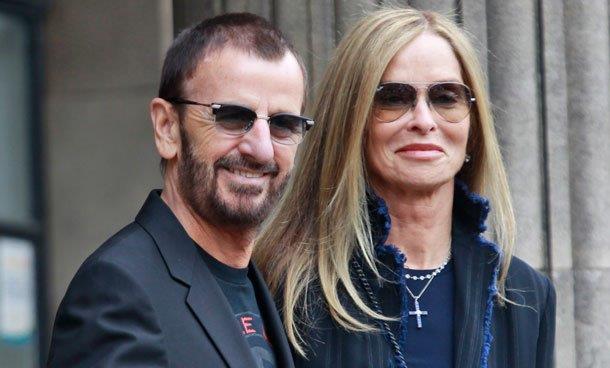 Ringo & Barbara attening Paul McCartney's wedding to Nancy in 2011 - Photo Credit: Source Unknown
In 2014 when civil partnership conversions to marriage were implemented, you did the first one in the country after midnight that day. Can you tell us about that?
My colleague Mark persuaded Mary Portas and her civil partner Melanie that they should be the first couple to convert their civil partnership to marriage when the law was implemented. By then we had moved out of the Old Marylebone Town Hall as it had closed for refurbishment and were using Westminster City Hall in Victoria as our temporary register office. So Mary, Melanie and their guests came along just before midnight and Mark, Tommy (the registrar who had registered their son's birth) and I all took part in their ceremony on the 18th floor of City Hall just after midnight – ensuring they were the first couple in the country to 'convert'. Previously I had performed their civil partnership ceremony at the Old Marylebone Town Hall so it was lovely for me to also be a part of their 'conversion' as well.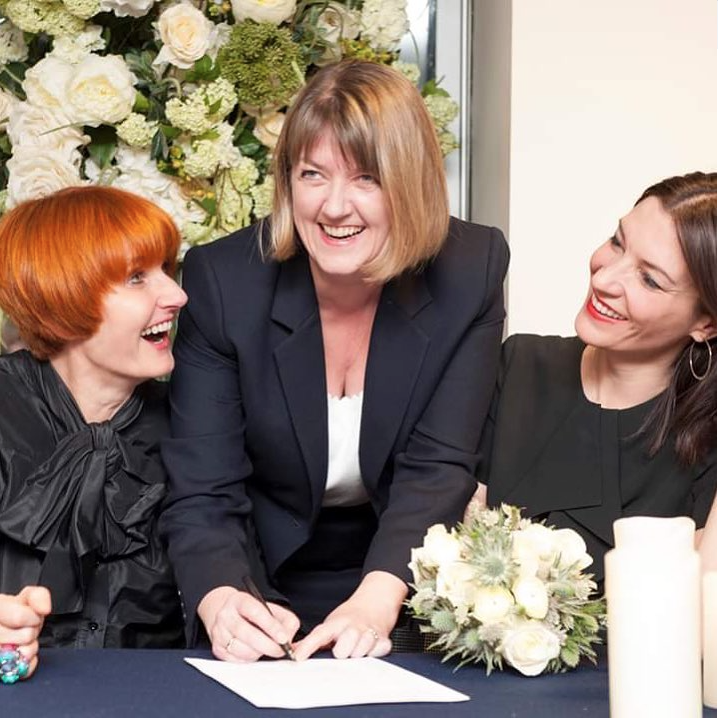 We all think of weddings when thinking of a register office, tell us about the other duties of a registrar in the Town Hall.
Well, each week we hold British Citizenship ceremonies in the Westminster Room for up to 35 new citizens to become British. In these ceremonies led by a registrar, and in the presence of the Lord Mayor of Westminster, the new citizens swear an oath of allegiance to HM Queen and promise to be a faithful and loyal citizen. They then receive their citizenship certificate from the Lord Mayor before everyone joins in singing the national anthem together. They can be very moving ceremonies, as the journey to British citizenship for some, has often been long and arduous – and their joy on finally becoming British is palpable.
What advice would you give to couples planning a wedding?
Don't get too hung up on the details or try to plan everything to the exact minute. Strict timetables never run to time! In my experience it will all fall into place on the actual day and if something minor does go wrong it really doesn't matter. Sometimes those little slip up moments can actually release the tension and be a source of amusement and provide great memories. Ultimately the celebration is for the couple and their nearest and dearest – special family and best friends to enjoy.
Which is your favourite room at The Old Marylebone Town Hall after the refurbishment?
I love them all! But I guess my absolute favourite is the Soho Room and funnily enough it was my favourite before the refurb as well – although it wasn't used for ceremonies back then. It was known as the Lord Mayor's Retiring Room and it was used primarily as a waiting room.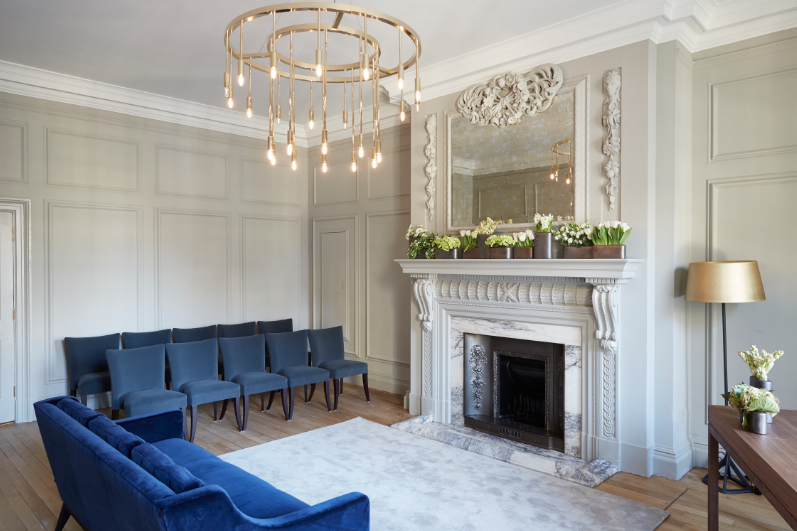 If you weren't a registrar, what would you be doing?
To be honest, I have absolutely no idea. When I was growing up I had a fanciful idea that I would like to be a portrait painter and I did study art both at school and also for a year at the Ulster Polytechnic before switching to studying History of Art at university. But in many respects I am glad a career in art didn't materialize as I have now had the best job in the world for the last 31 years (and hopefully a few more to come!). What other job would give you the satisfaction of being able to change peoples' lives in a moment when at the end of the ceremony you say "I am pleased to declare that you are now husband and wife"? It really is incredibly special seeing the smiles spread across their faces and that momentous first kiss at the end - and I just love it.
If you would like to find out more about getting married at The Old Marylebone Town Hall please click here.
Follow us on Facebook: facebook.com/WestminsterRegisterOffice
Chat to us on Twitter: @WestminsterRO
Share with us on Instagram: @adaytorememberdotlondon