We interviewed Emma Duggan, who regularly shoots couples and weddings at The Old Marylebone Town Hall, to get a photographer's point of view on how and to what degree things changed in the building since the restrictions came in but mostly how that affects capturing those special moments. Read below to hear Emma's experience.
Was there anything you were quite concerned about with the changing restrictions?
The lack of consistency from some venues has been occasionally a little frightening. At times, my safety has been compromised which can prove uncomfortable.
When the Government changed the rules on mask wearing to increase safety some venues used this to increase their room capacities from 2 metres down to 1 metre which wasn't the intention. 
At Old Marylebone Town Hall you didn't increase your room capacities which is really important to me. With the two Registrars and the couple not wearing masks I am keen to be able to stay at least 2 metres from them and this is absolutely still possible with you. A huge relief!
You have taken care of your staff, your clients, their guests, AND your visiting suppliers. It makes each visit so refreshing and I feel elated as I walk up your steps. I know that there are rules, but they are all valid and above all consistent.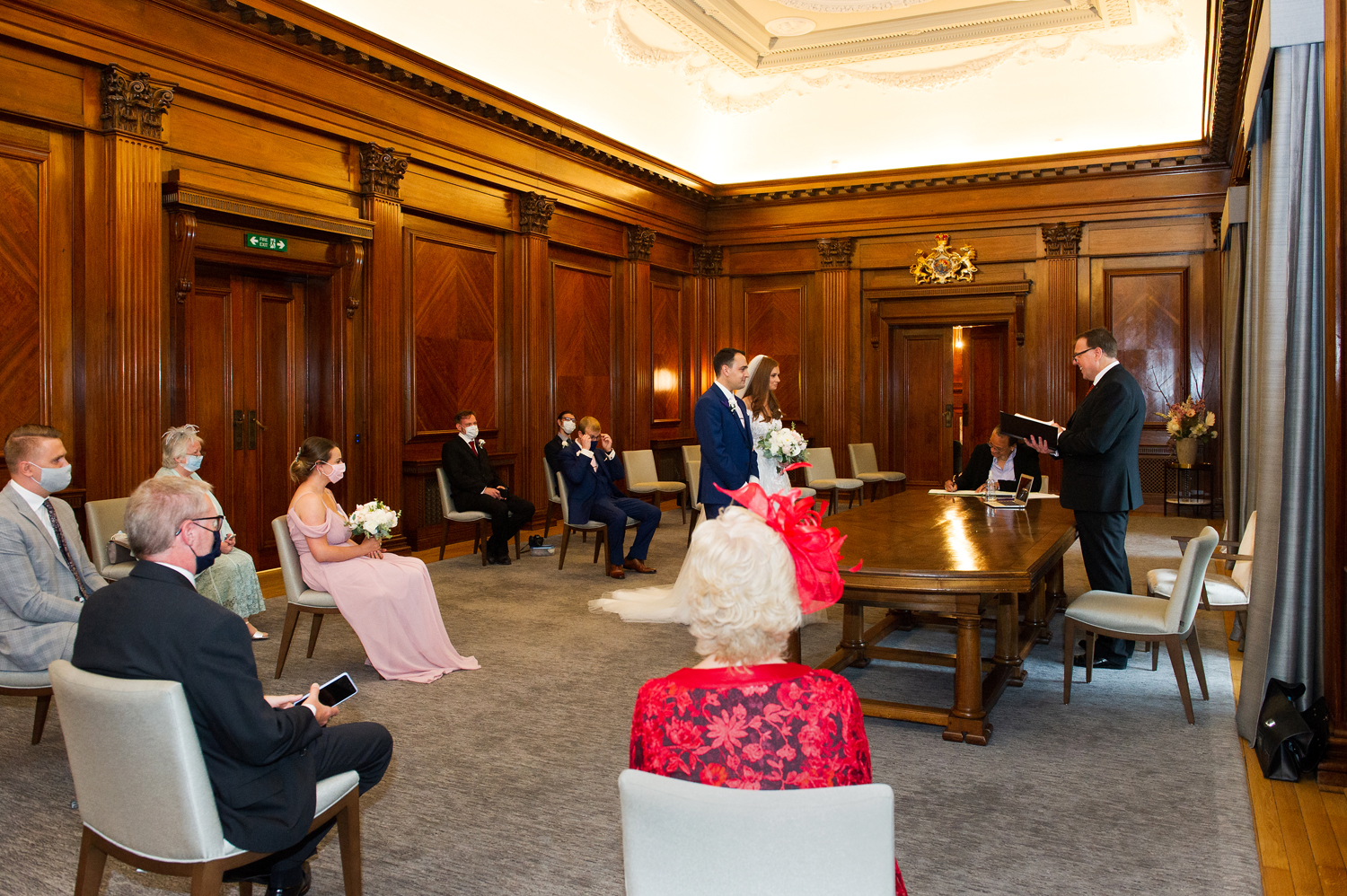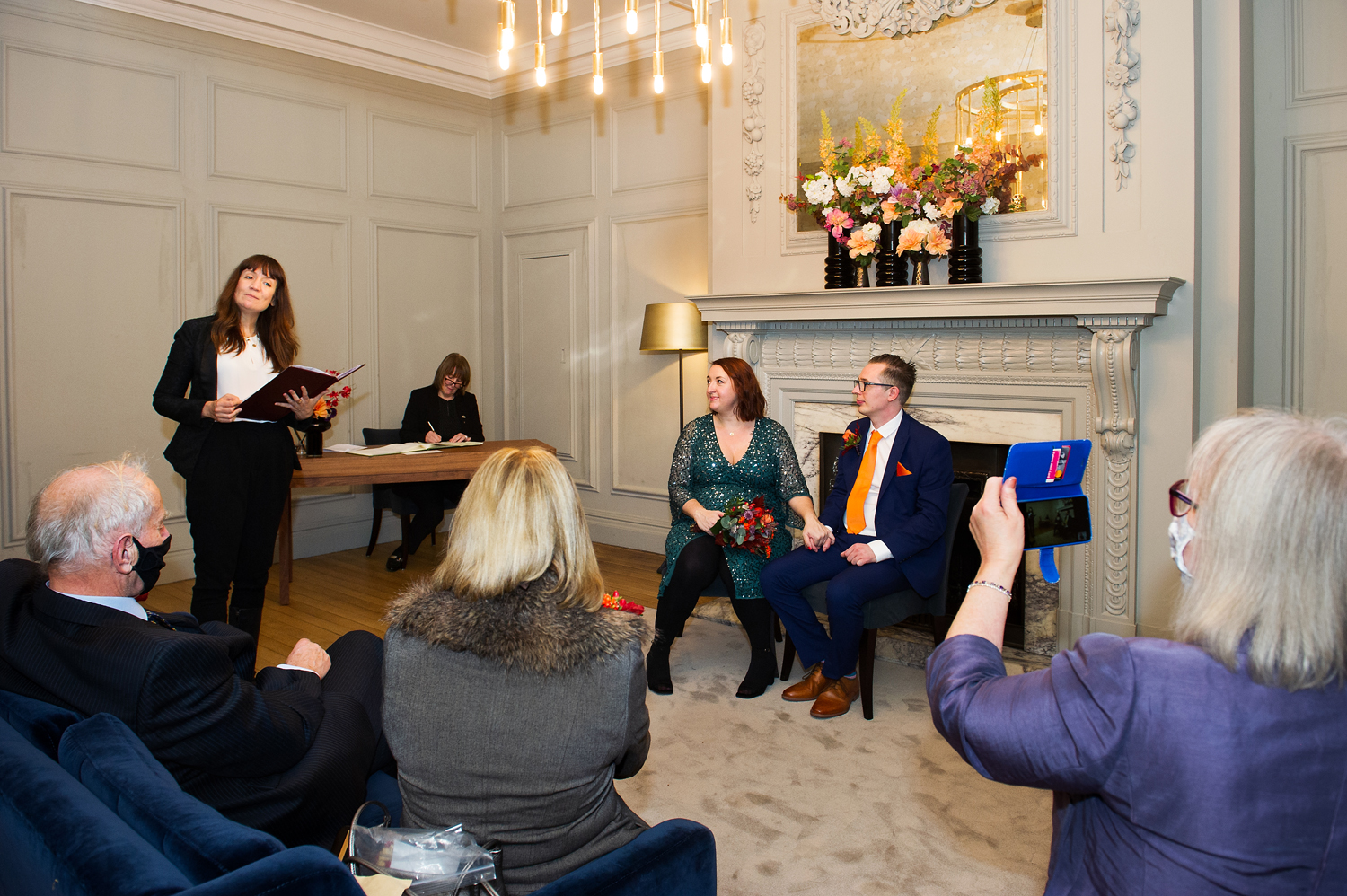 Walk us through your experience coming into the building for the 1st time since we re-opened
There was lovely warm welcome from Security and Ushers with easy to follow hand washing instructions. They always take care to keep 2 metres apart from everyone which is so appreciated. Again, their attitude ensures that visitors respect the rules. There is a new one-way stairs system – LOVE – and visible efforts to manage cleaning the interiors is very comforting.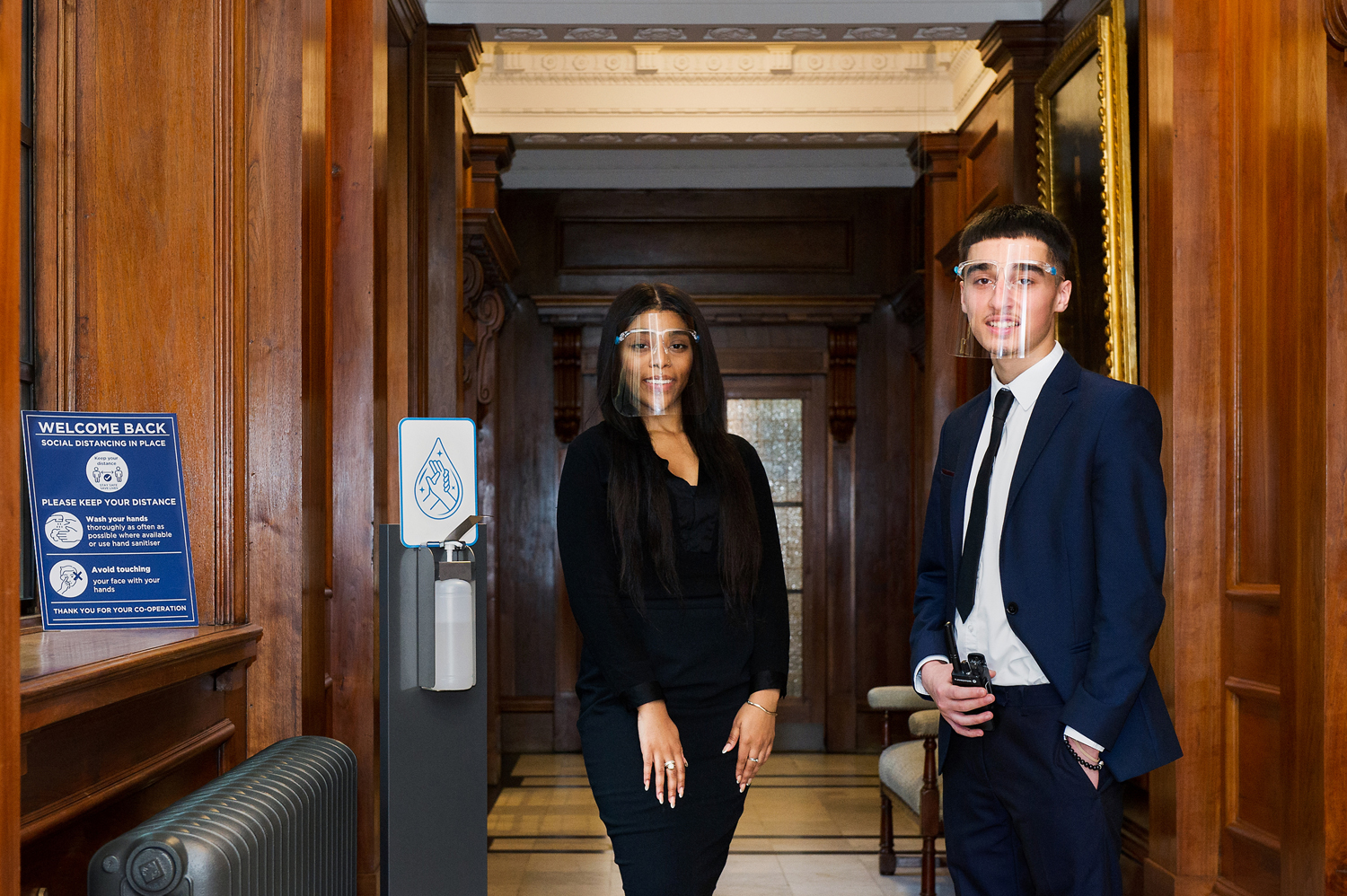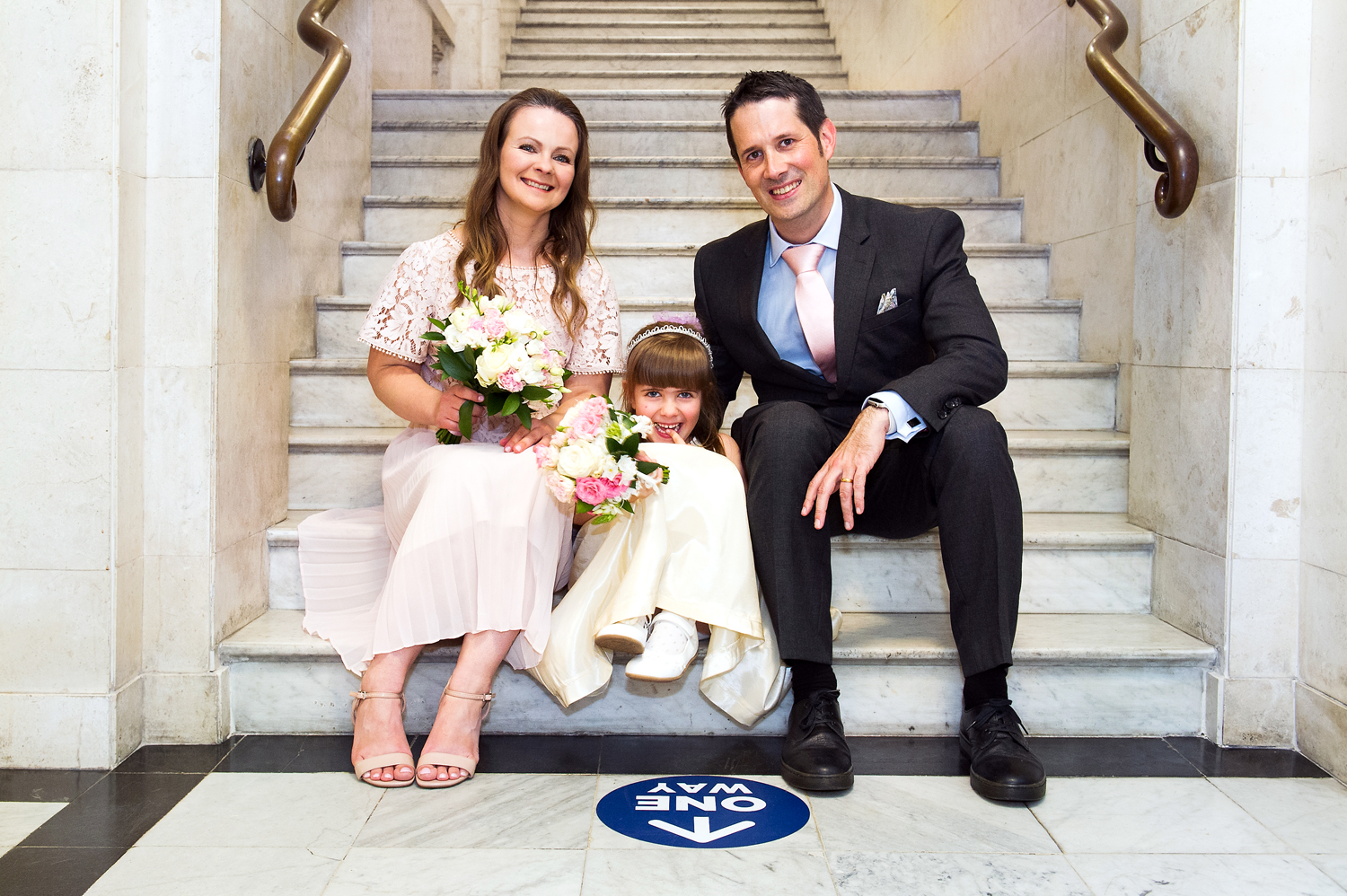 How do the new ways compare to the old?
You now have fewer ceremonies per day meaning that we (photographers) can all keep wedding parties separate. In fact, the photo opportunities are better now than pre-March. Fewer ceremonies and guests mean that we are handling the photo aspect with no delays now.
Westminster has appreciated how stressful 2020 has been for many people and it shows. I have seen more love, laughter, and tears since 4th July than at any time in my 15-year career.
You have managed every aspect of the new safety measures with the professionalism, verve, and energy that I am used to seeing from you, but this time on acid!
We have had to change many things but have there been any particularly good changes?
As I mentioned, the new one-way stairs system to manage visitors is great. The loo door wedged open so that you don't have to touch the knob - such a little thing but it is SO appreciated. I tell all my clients that this tiny thing shows how much thought has gone into everything.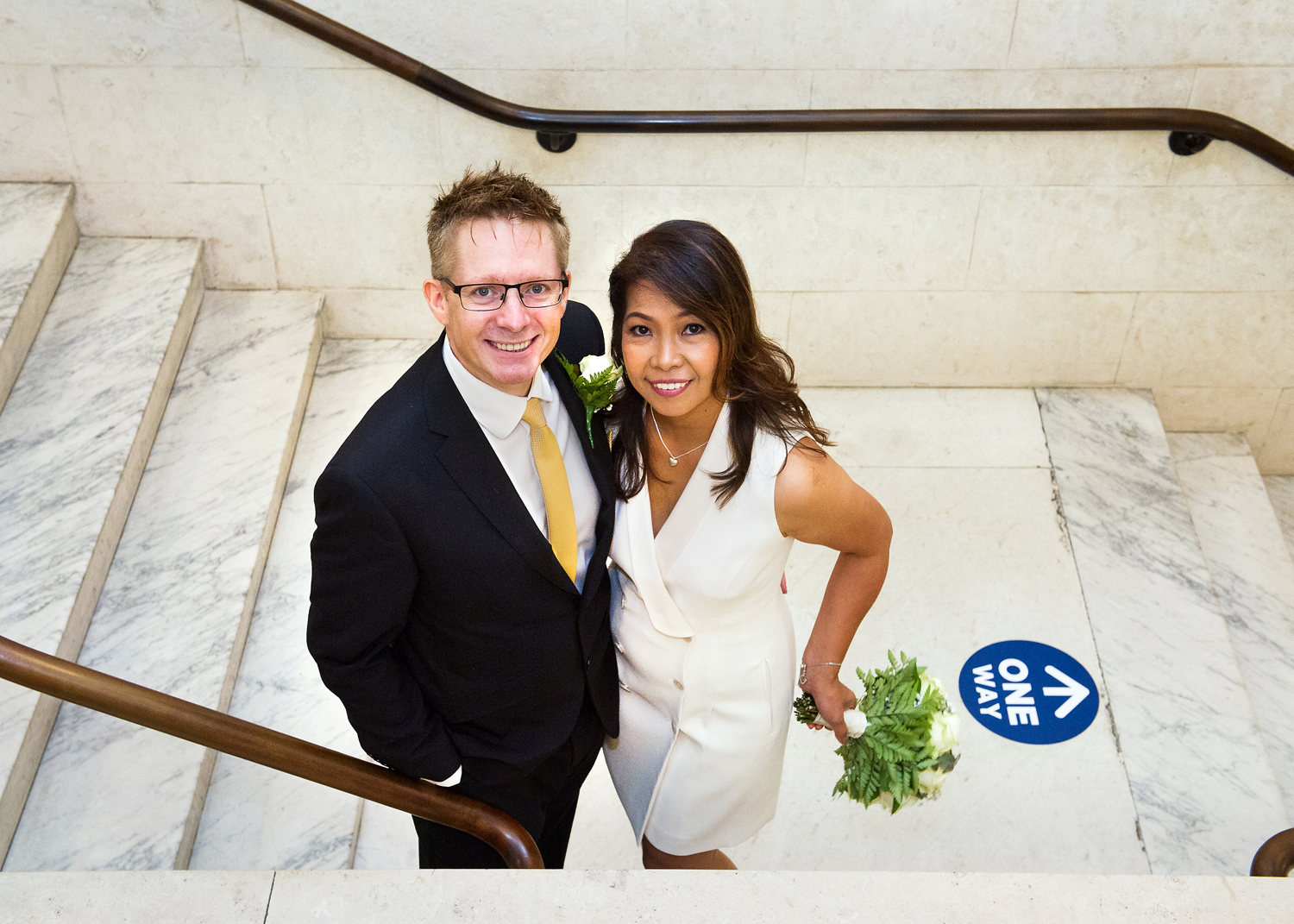 We have tried to be as discreet as possible with our safety measures. Does this come across?
There is just the right amount of signage and hand sanitiser points. Having hand sanitiser on each desk is a nice touch and Registrars always thoughtfully hide them behind floral displays.
Westminster haven't chosen any overbearing safety precautions with Perspex barriers and ugly signs stuck on ceremony walls (in turn featuring heavily in the resulting photos). It makes you stand out and emphasises that you are practising core meaningful measures like social distancing, hand washing, and spending the least amount of time in rooms as opposed to things that make the rooms look unattractive. It's very reassuring and I know that my clients have all really appreciated the care that you have taken.
Ventilation is another safety aspect which is discreet but hugely appreciated. Allowing the ceremony room doors (in all except Westminster Room which is huge and airy anyway) to be open during the ceremony allows a good throughflow of air.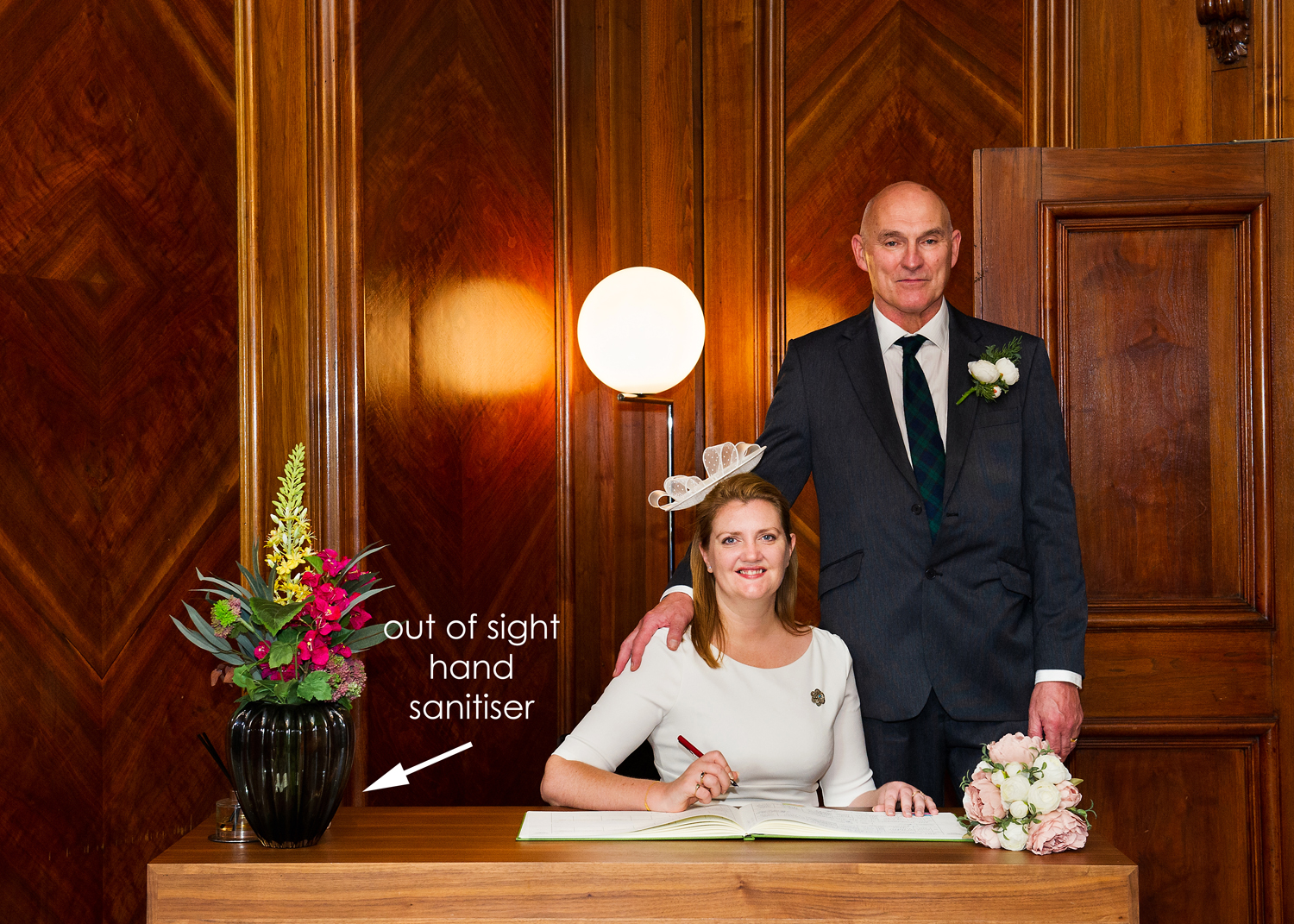 Have the guidelines for photographers been clear?
I love the Code of Conduct for photographers - clear and safe and respectful rules which all make sense. I feel part of a community keen to look out for each other. Having the couple stand in the same position in each room consistently is a stroke of genius. It takes the pressure off us enormously. You have put real thought into this so that we can get great photos in every room. Not all venues have considered photography. I get that we can be a pain, but couples have spent lots of money on ceremony photography so it's embarrassing when you have a venue which only allows you to shoot from behind.
People are concerned about the chair layouts. What do you think?
The chair spacing is perfect and I feel safe. I can be at least 1 metre (mostly 2 metres) away from people at all times. When you have four people in the room without masks (the two Registrars and the couple) being able to stay 2 metres away from them is really appreciated.
Many of my clients have elderly parents or grandparents who have ventured out very little since March, so they are always relieved to see the chairs so safely spread out.
The level of consistency at Westminster makes me feel reassured that you are all treating visiting suppliers the same. No-one is getting different shots by bending or breaking the rules. That means that we can reassure our couples that they are getting the very best shots in any particular room.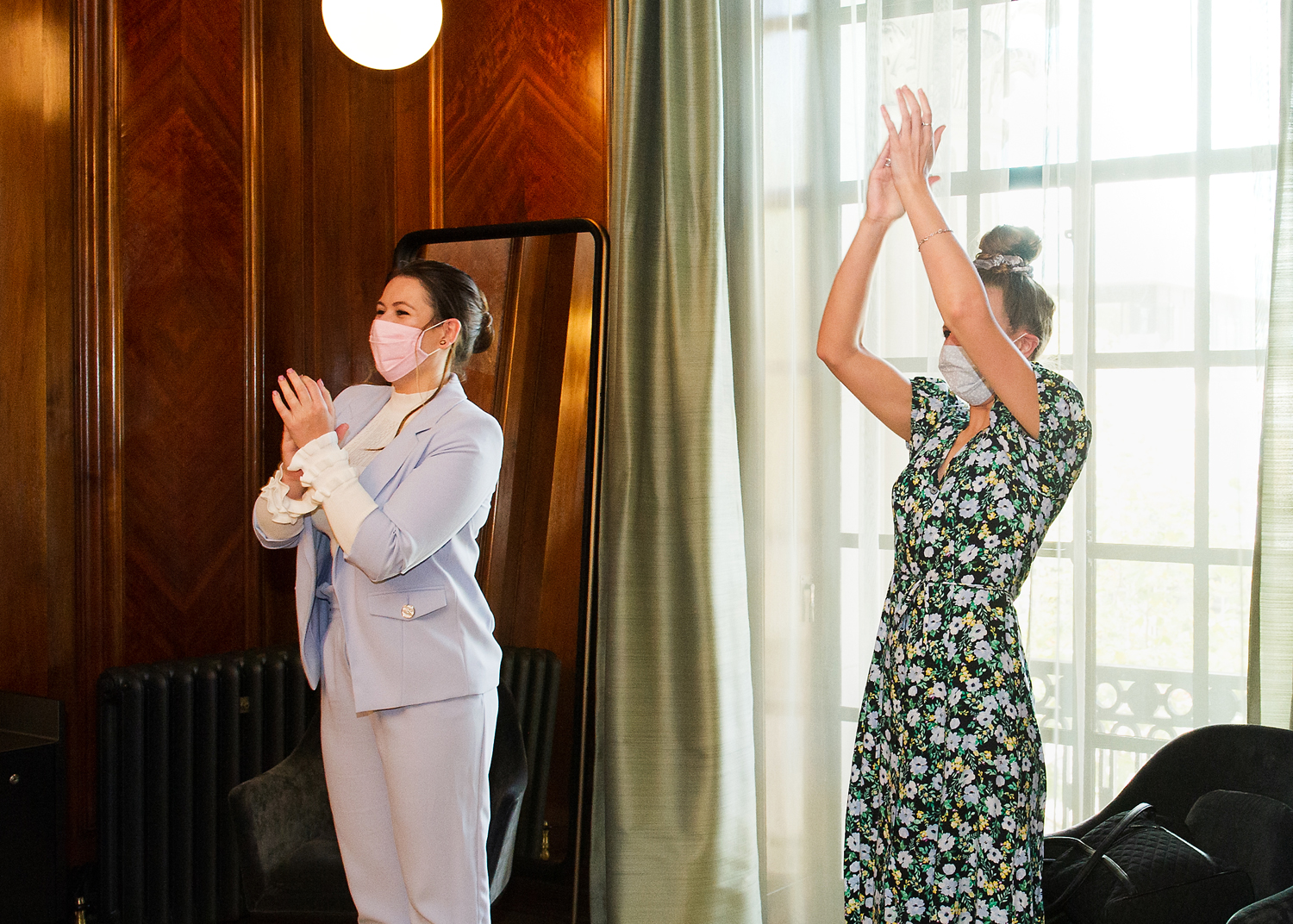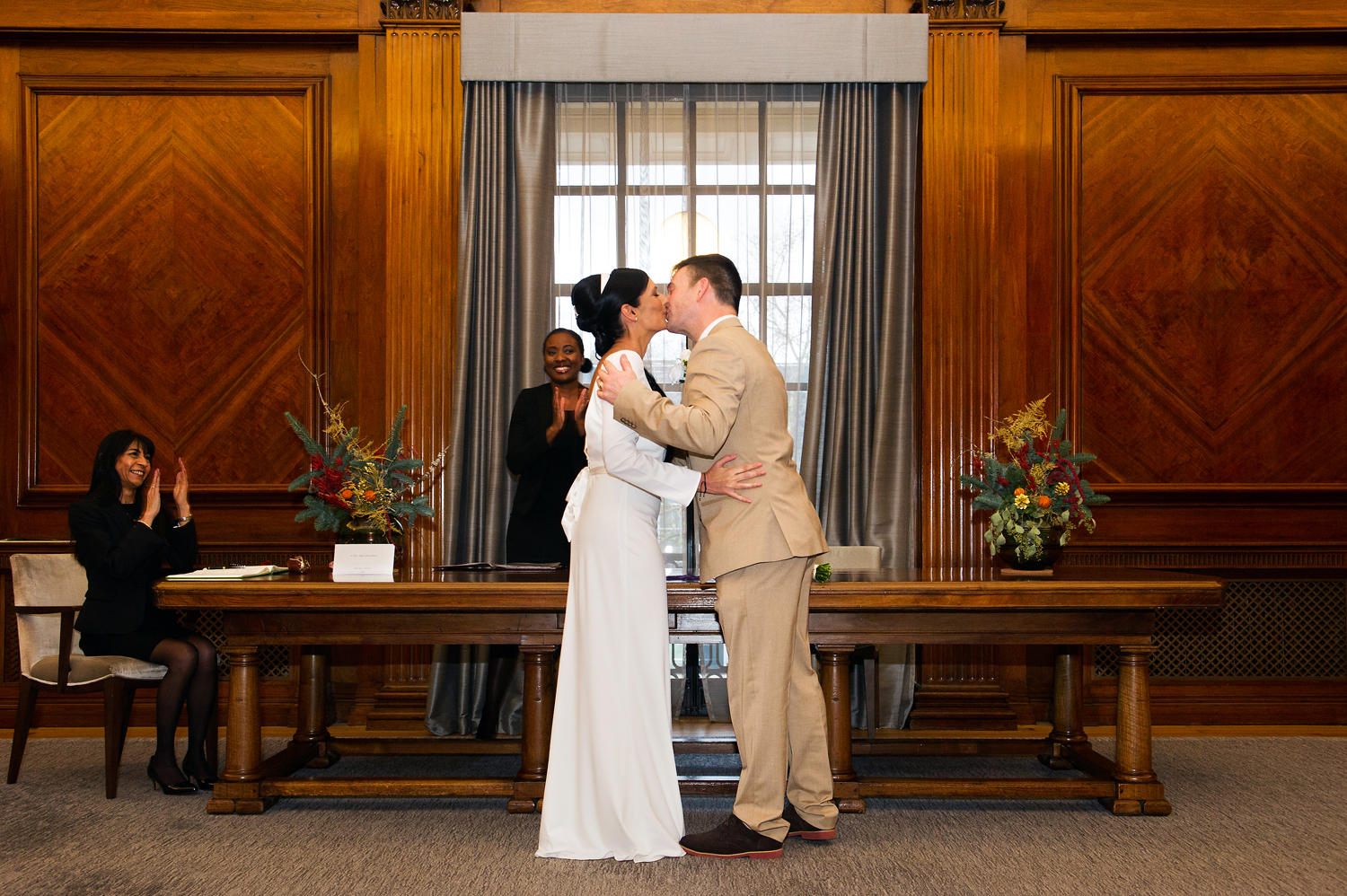 We have had to reduce the number of ceremony slots per day by up to 50%. How does this work for you?
One of my favourites things is that you manage each day so brilliantly with your ceremony slots and clients are delighted to be around as few other parties as possible. I am more than happy to move ceremony times to fit in because then I feel happier and safer on the day. This is a stroke of genius and hugely appreciated by everyone (especially me).  
Also, ceremony rooms not having walk in entrances at the start (except the Westminster room) so that parties can all remain separate. It makes everything feel compact and organised. In addition, not seeing mini-photo shoots taking place inside the building means that couples understand that you are keen for everyone to leave as soon after their ceremony as possible.
What is your impression of staff since we re-opened?
The new Security Team welcoming visitors makes everyone take their experience at Old Marylebone Town Hall seriously from the off and helps keep the wedding parties separate.
The Ushering Team have always been fabulous and are now going the extra mile to make each-and-every ceremony special. They know that some clients have rearranged their weddings two or three times, so they are being even more kind and thoughtful than usual. From having spare pins (and even the occasional spare buttonhole!) to comforting teary guests – always with a cheery smile – they are a real credit to Westminster.
I very much like that the Registrars retain their individuality. Each one has their comfort level and expresses this clearly and professionally. I feel that there is a consistent handling of ceremonies and this is really appealing and appreciated. They have all allowed people plenty of time to laugh, cry and be joyous. I had a first recently too. A pregnant bride feeling a little warm in her ceremony room. Quick as a flash Registrars Liz and Ellen produced two chairs and the couple married sitting down. In total comfort. That's the Westminster difference.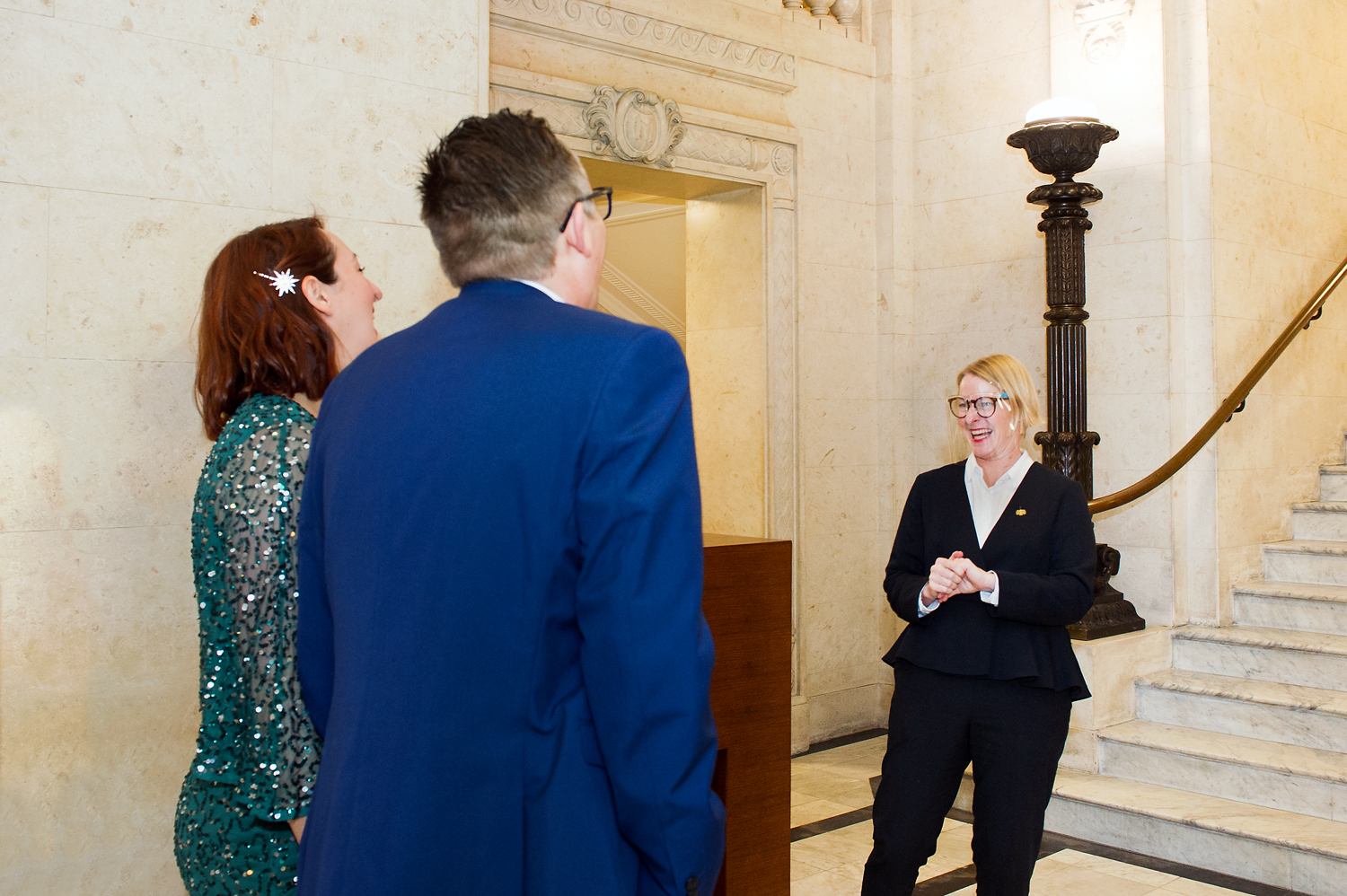 Thank you for such great feedback, Emma. Any last words?
I want to thank you for everything that I have experienced at Old Marylebone Town Hall since returning on 4th July. I was so nervous about travelling on the train and tube and then what it would be like the other end. You couldn't have made things any better. My couples have all been blown away by their experience. Thank you from the bottom of my heart. Utterly professional from start to finish. And above all, safe.
Your entire Team should be supremely proud. I feel very blessed to be involved with weddings at all your sites.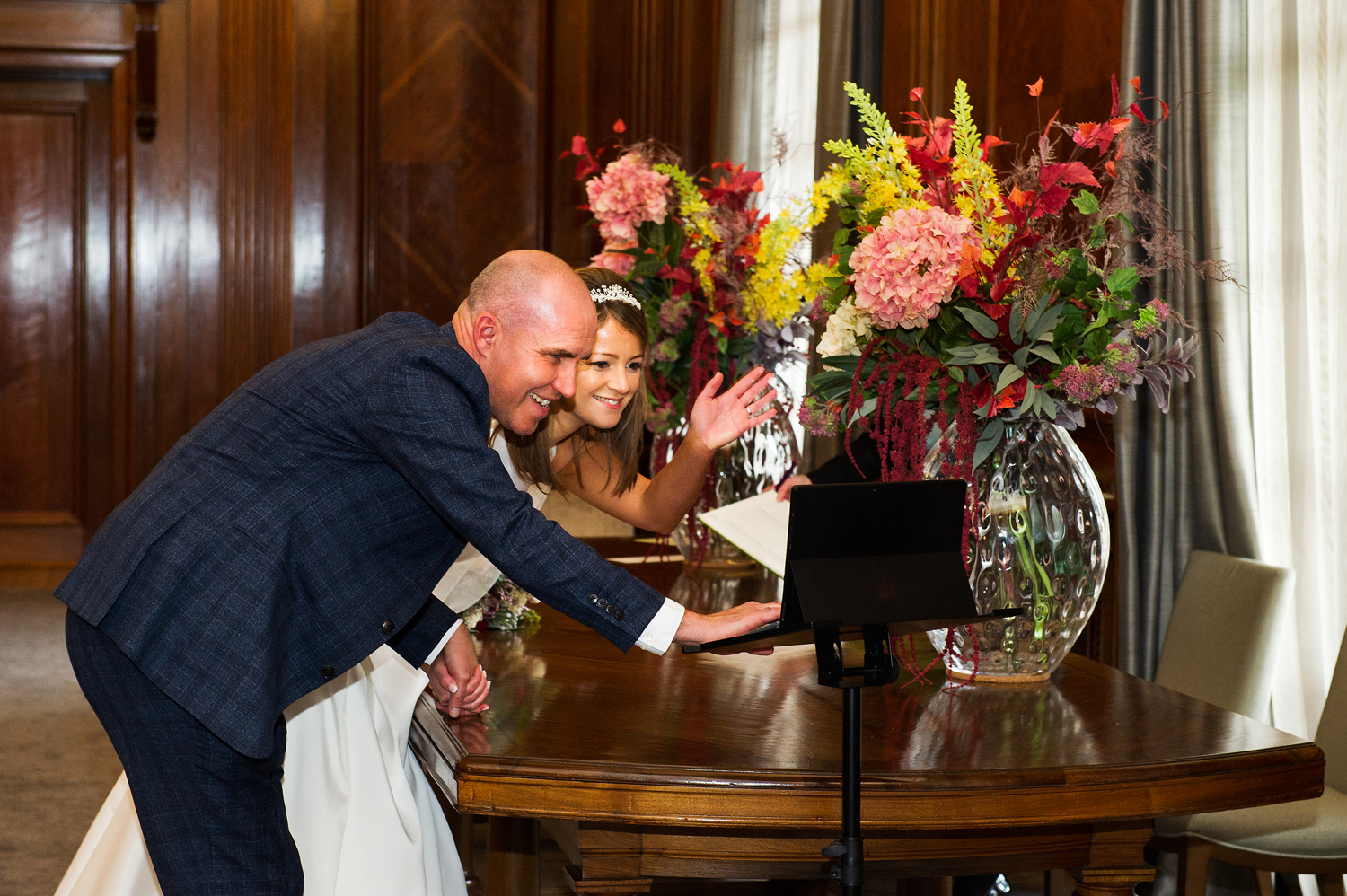 To contact Emma:
Tel: 01342 811631
Email: emma@emmaduggan.com
Website: www.emmaduggan.com
Facebook: facebook.com/Emma-Duggan-Photography
Twitter: emmaduggan
Instagram: emmadugganphotography