25th February 2022
Wallace Collection
Image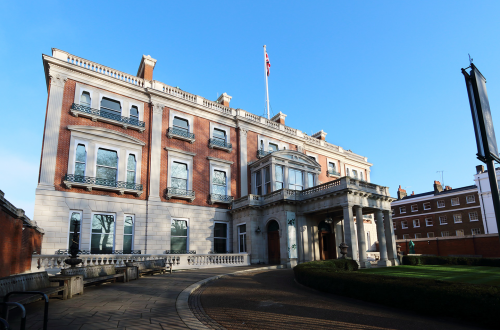 Hertford House has been lovingly brought back to its former glory following 3 years of conservation and refurbishment: it's time for you to add your piece of history to the Wallace Collection's story.
A 15 minute walk from The Old Marylebone Town Hall, you will discover the unexpected splendour of the Wallace Collection. As you leave Manchester Square and enter through the grand heritage green gates you and your guests are greeted by the Monogram of Queen Victoria (Victoria Regina). The beautiful iron gates and railings have been lovingly restored during the extensive refurbishments. Work on the crowns took a week in a workshop before further gilding was applied once reinstated on site. The process is a delicate one, involving 23 ¼ carat gold leaf which is applied meticulously by hand!

The exterior brickwork has been cleaned to reveal a wonderful rich red brick. The white tuck pointing now looks just as Sir Richard Wallace would have admired it when he moved in, and very much resembles a magnificent dolls house!

Original Victorian globes light the way as you and your guests approach the front portico and grand central doors, by wedding car or on foot. These globes have been restored to their former glory and were hanging on the day the Prince of Wales opened the Museum in 1900.

Last summer the Front Hall, where your guests will be welcomed, was painstakingly refurbished by a team of specialist painters. Using a four part painting process with historical pigments, they replicated the effect of Sienna marble on the walls leading you up to the first floor Landing. The delicate grey marble lines you see are created with a bird's feather and each painted square echoes the unique pattern of real marble.

As you and your guests ascend the grand staircase to your blessing or welcome drinks there are so many stunning details to enjoy with over 5,500 works of art in the Collection. The staircase balustrade which was installed by Sir Richard Wallace came from the Banque Royale in France and when you visit, take a closer look and you will see decorative coins and notes. Another detail Sir Richard Wallace added when he and Lady Wallace moved from Paris to live at Hertford House in 1875, was a beautiful Weather Vain Clock installed at high level above the two large Boucher paintings. This is one of the many details which have been restored and re-gilded with gold leaf as part of last year's refurbishments.

A classic Wallace Wedding celebration starts with a welcome drinks reception across the Drawing Room Suite, in which each gallery's silk lined walls and curtains have been cleaned, the lighting reprogrammed and artworks rehung. The rooms feature a selection of exquisite French and English cut crystal chandeliers, each taking 3 weeks to rewire and clean.
Last December the Wallace Collection welcomed a Chuppah to the Great Gallery as part of an elegant Jewish wedding celebration. Our Great Gallery can host up to 140 guests for a seated blessing, or if you would prefer something a little more informal, you can opt for a standing reception.

As you hear the call for dinner, the doors to the Dining Room where the Wallace family used to feast, lead you through to the impressive glazed Courtyard which offers the perfect space to celebrate all year round. The Dining Room chandelier and light blue silk lined walls have been cleaned, reinstated and relit. This room is ideal for more intimate wedding dinners, or if you are celebrating in the Courtyard, the gallery can be transformed into a quiet lounge area, giving guests the opportunity to take a break from dancing the night away.

Get in touch with the Venue Hire Team to find out more about our Wedding Reception offering at events@wallacecollection.org or 020 7563 9507.