Image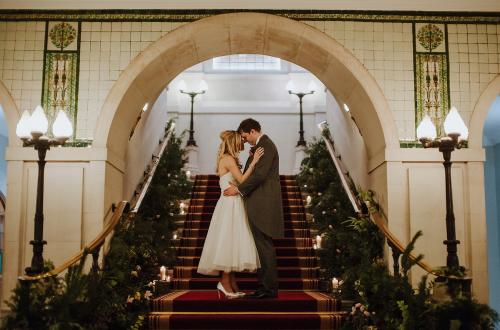 | Days | April 2022 - March 2023 | April 2023 - March 2024 | April 2024 - March 2025 |
| --- | --- | --- | --- |
| Weekdays | £775 | £820 | £835 |
| Weekdays from 5pm onwards | £909 | £935 | £960 |
| Saturday | £885 | £920 | £960 |
| Sunday | £1,150 | £1,170 | £1,210 |
| Bank holidays | £1,260 | £1,285 | £1,360 |
113 Chancery Lane - The Law Society
Licensed for civil weddings and partnerships, The Law Society is the ideal venue for couples who wish for the grandest of weddings in the heart of London.
Together, the Reading Room and Common Room are a truly special venue for up to 200 guests. Refined palette of delicate blue, gold and cream and a high glass ceiling in the Reading Room will leave guests entranced. Grand and spacious, yet warm and inviting, the magnificent Common Room features graceful marble pillars that draw the eye to Conrad Dressler's celebrated Persian frieze depicting divine justice. 17th century stained glass windows, mahogany panelling and a peacock-tiled fireplace make this room a unique and beautiful wedding backdrop. The space is easily turned around to provide for a ceremony, a meal and an evening reception.
For a more intimate wedding, fall in love with the Old Council Chamber and the Strand, Fleet and Bell Suite. These beautiful rooms are wonderful for a warm and romantic celebration; they provide an elegant backdrop for your special day.
Not forgetting the food, our passionate chefs always exceed expectations, creating the most visually stunning multi-cultural dishes. A bespoke approach ensures your dining experience is tailored to your every wish.
Capacity
Medium (25 - 50 guests)
Large (50 - 100 guests)
Fanfare (100+ guests)
Venue website