Image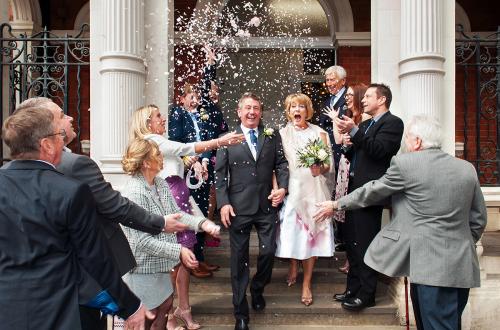 The library is only available on select Saturdays.
| Days | April 2023 - March 2024 | April 2024 - August 2025 |
| --- | --- | --- |
| Saturday | £720 | £798 |
Mayfair Library
If you are looking for information on the lending library itself, please click here
Mayfair Library has a quiet, romantic atmosphere and is perfect for an intimate wedding or civil partnership ceremony. The venue has a fantastic central London location within walking distance of many excellent reception venues. There is a choice of 2 ceremony rooms: the intimate Marylebone Room or the elegant Mayfair Room. You can also relax in the Elizabeth Barratt Browning Room, where your pre-ceremony interview will take place.
The Marylebone Room has seating for up to 22 guests. The room has been lovingly refurbished and decorated with antique books, vintage ornaments and silk flowers. With its large, original fireplace and stained glass bay window, this room is perfect for a small ceremony. 
The larger Mayfair Room, with its splendid aisle, elegant décor and seating for up to 38 guests, is perfect for an entrance. The room has silk flowers and a stained glass bay window overlooking the beautiful Mount Street Gardens. 
Please note that there is no disabled access at Mayfair Library. The entrance has a flight of 5 stairs and the ceremony rooms are on the first floor which is up another flight of 30 stairs. There are no lifts in the building, and there is no specific drop off and pick up area for cars outside Mayfair Library. 
Mayfair Library, 25 South Audley Street, Mayfair, London, W1K 2PB 
All wedding enquiries for this venue should be made through Westminster Register Office on
Tel: 0207 641 7500
Email: registeroffice@westminster.gov.uk
Capacity
Intimate (2 - 10 guests)
Small (10 - 25 guests)
Medium (25 - 50 guests)
Venue website