Image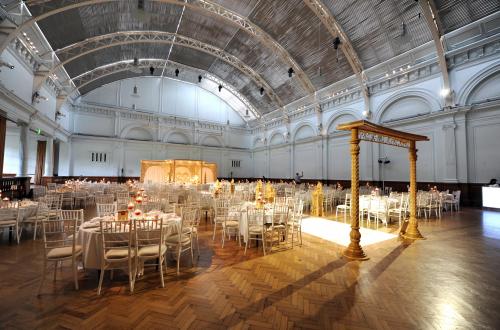 | Days | April 2021 - March 2022 | April 2022 - March 2023 | April 2023 - March 2024 |
| --- | --- | --- | --- |
| Weekdays | £711 | £775 | £820 |
| Weekdays from 5pm onwards | £871 | £909 | £935 |
| Saturday | £831 | £885 | £920 |
| Sunday | £1,120 | £1,150 | £1,170 |
| Bank holidays | £1,186 | £1,260 | £1,285 |
Royal Horticultural Halls (Lindley Hall)
Situated in the heart of Westminster; characterised by Edwardian features and a stunning glass vaulted ceiling, the Lindley Hall provides the perfect blank canvas backdrop for Civil Marriages, Partnerships and Religious Ceremonies.

Fully licenced and able to accommodate up to 600 guests for wedding ceremonies, 480 for dinner dances or a combination of the two.

Contact the team and talk through your special day:
Tel: 020 7821 3650
Email: horthalls@rhs.org.uk

Royal Horticultural Halls,
The Lindley Hall,
Elverton Street,
London SW1P 2PB.
Venue website