Image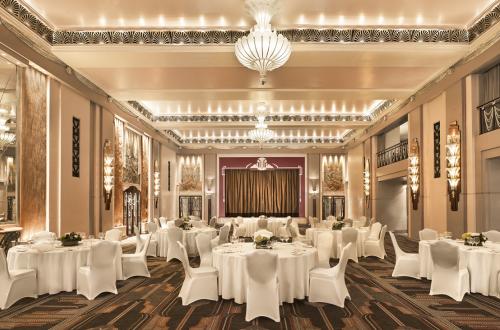 | Days | April 2021 - March 2022 | April 2022 - March 2023 | April 2023 - March 2024 |
| --- | --- | --- | --- |
| Weekdays | £711 | £775 | £820 |
| Weekdays from 5pm onwards | £871 | £909 | £935 |
| Saturday | £831 | £885 | £920 |
| Sunday | £1,120 | £1,150 | £1,170 |
| Bank holidays | £1,186 | £1,260 | £1,285 |
Sheraton Grand London Park Lane
A historic grade II listed venue on Piccadilly. 
Ballroom
Immerse yourself in the magic of our 11,000-square-foot ballroom. With a separate dedicated entrance, this grade 2 listed ballroom is one of London's finest examples of Art Deco architecture, and includes the use of the Silver Gallery, balcony, staffed cloakroom and ballroom foyer spread over three floors. Welcome up to 500 guests for dinner and dancing or 1,200 for a cocktail reception, with a sprung maple dance floor and built-in stage to make your wedding or gala event complete. Our team of dedicated wedding planners will be delighted to assist should you have any special requests or would like to create a bespoke wedding package to suit your special day.
Tudor Rose Room
Greet your guests in the grandeur of the Tudor Rose Room. Located on the ground floor of the Sheraton Grand London Park Lane, this 220 square-meters hall seats 120 guests for dinner and dancing.
Oak Room 
Inspired by a 13th century English Inn, The 100 square-meters Oak Room is complete with listed carved ceiling, oak panelling and a fireplace. This traditional space works perfectly for a personal standing reception or meeting.
Capacity
Intimate (2 - 10 guests)
Small (10 - 25 guests)
Medium (25 - 50 guests)
Large (50 - 100 guests)
Fanfare (100+ guests)
Venue website