Image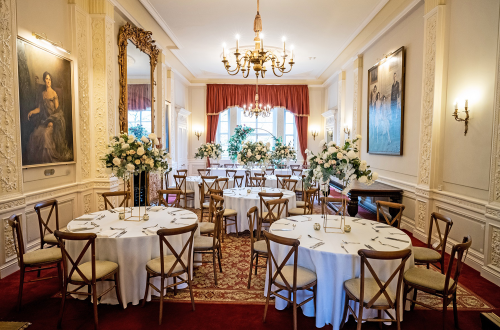 N.B. These fees are for the registrars' attendance at a ceremony. Please contact the venue direct for details of hire fees etc.

| Days | April 2023 - March 2024 | April 2024 - March 2025 |
| --- | --- | --- |
| Weekdays | £820 | £835 |
| Weekdays from 5pm onwards | £935 | £960 |
| Saturday | £920 | £960 |
| Sunday | £1,170 | £1,210 |
| Bank holidays | £1,285 | £1,360 |
Six Park Place (home of Royal Over-Seas)
Step into our picture-perfect setting for a stylish, elegant wedding in the heart of St James's, London.  
Six Park Place is an English heritage Grade-I house and garden presenting graceful elegance, grandeur, and comfort, suitable for every style of wedding ceremony or reception. 
We are here to make every wedding dream you have a reality. 
Every one of our eight spaces is licensed including our Garden, we can accommodate from 10 to 120 guests. We boast picturesque views of Green Park, a neighbour of the Ritz and Buckingham Palace, with 83 classic bedrooms onsite. 
A team of world-class chefs, sommeliers and mixologists have designed an outstanding array of wedding menus, cocktails and wine lists. Expertly sourced, seasonal ingredients are brought together to create truly distinctive dining and drinking experiences.
We are delighted to unveil our special, boutique venue to you. 
Congratulations. 
Six Park Place
weddings@sixparkplace.co.uk 
facebook.com/sixparkplace
instagram.com/sixparkplace
Capacity
Small (10 - 25 guests)
Large (50 - 100 guests)
Type
Historical Site
Listed Building
Private Members' Club
Style
Art Deco
Classical
Traditional
Venue website